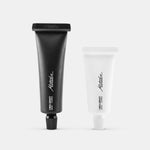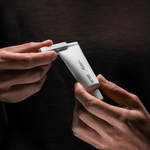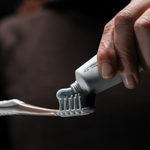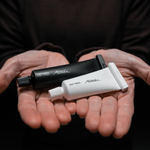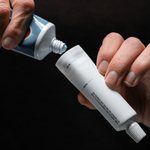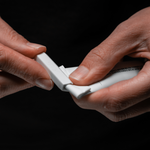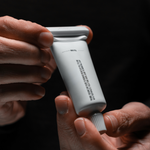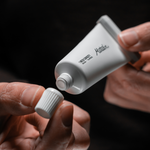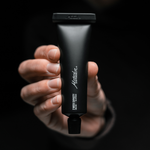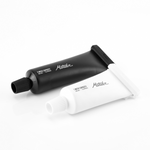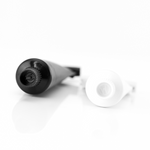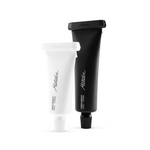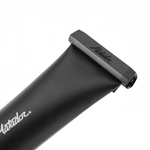 Refillable Toothpaste Tubes
Regular Price

$10.00 USD

Sale Price

$10.00 USD

Regular Price

Unit Price

per
Refillable Toothpaste Tubes are designed to replace 
single-use travel-sized tubes. Refill indefinitely with your preferred toothpaste to reduce waste and eliminate a trip to the store.
Food safe, BPA-free + PVC-free
2 tubes included: 1 and 2 week volumes
WHY WE BUILT THE REFILLABLE TOOTHPASTE TUBES
You're packing for a 10 day trip — how much toothpaste do you need? Probably more than one travel tube, but you only have half a tube of Crest leftover from the last trip…We designed our Refillable Toothpaste Tubes to solve all these problems.
Each pack includes 1-week and 2-week tubes to help you bring enough to last without overpacking. Infinitely refillable, you can pack your preferred toothpaste, avoid those eleventh-hour store runs, and reduce waste from single-use travel tubes at the same time.
- Refillable design: remove sliding clip and refill through the back end
- Standard screw cap opening
- Reduces waste from disposable travel-sized products
- Multi-layer construction with vapor barrier prevents contents from drying out
- TSA approved
- 1 and 2 week toothpaste volumes
- Easy to clean, dishwasher safe
- Designed for toothpaste

Volume:
1 week tube: 0.74fl oz (22mL)
2 week tube: 1.18fl oz (35mL)
Weight:
1 week tube: 0.23oz (6.7g)
2 week tube: 0.25oz (7.3g)
Dimensions:
1 week tube: 3.9 x 1.7 x 0.94in (10 x 4.5 x 2.4cm)
2 week tube: 4.8 x 1.7 x 0.94in (12.3 x 4.5 x 2.4cm)


Materials
- PE bottle, PP cap, nylon 66 sliding clip
- EVOH vapor barrier, 3 layer construction
- BPA/PVC free
- Food Safe

*Designed for toothpaste only. Not intended for low viscosity fluids, oils, or perfumes.
Dishwasher safe, top rack. Rinse and dry thoroughly before closing and storing.

How do I fill the tubes?
Simply remove the sliding clip on the end of the tube, fill with desired amount, and replace clip.
Can I fill the tubes with other contents?
We have designed the toothpaste tubes for toothpaste, and they are tested to perform with toothpaste. The tube might not be compatible with low viscosity liquids. Always squeeze to test bottles after filling.
Will toothpaste dry out in the tubes?
No, toothpaste will not dry out. The tubes are built with a 3-layer construction that includes a vapor barrier to keep your contents fresh.
How much pressure will the Refillable Toothpaste Tube withstand?
The Refillable Toothpaste Tube is tested up to 200lbs of squeeze force when filled with toothpaste and is designed to withstand being squished during travel.
How many toothpaste applications fit in the 1 and 2 week tubes?
We established each toothpaste application to weigh 1.5-2 grams—a generous, full toothbrush bristle length application. The 2 week tube holds a little over 30 applications, and the 1 week holds approximately 20 applications.
The length of time the tube contents last is highly individual, and depends on many factors including how completely the tube is filled. However, we surveyed many people and measured based on the highest volume toothpaste consumers in the sample group to establish a dependable volume of toothpaste for most customers that brush their teeth 2-3 times a day.
Why is the 2 week tube not double the volume of the 1 week tube?
The tubes hold some extra toothpaste in addition to the 1 and 2 week volumes because it makes them easier to use when squeezed. Each tube has an equal amount of extra space for people that brush more than 2 times per day.
Includes two tubes
1 and 2 week volumes so that you have the right amount of toothpaste for your trip.
Refillable, reusable design
Reduces waste and a eliminates a trip to the store.
Works with any toothpaste
Travel with your preferred toothpaste and maintain a streamlined toiletry kit.
"These tubes are IT"
So much smaller than typical travel containers, and they're of such good build and quality.
- Mister Kinch (verified customer)
"Super lightweight and easy to use"
Great item. Small one is perfect for hiking and lightweight travel. Bigger one for a week away...no more ridiculously priced travel sized toothpaste with tubes that are single use plastic.
- JB (verified customer)