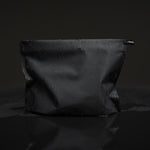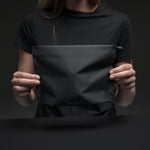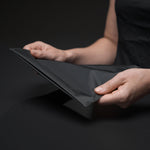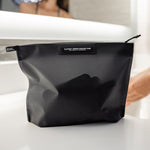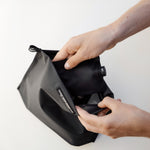 FlatPak™ Zipper Toiletry Case
Regular Price

$30.00 USD

Sale Price

$30.00 USD

Regular Price

Unit Price

per
This is an ultralight, leakproof toiletry case that delivers quick access to your toiletries during travel.
Best For: Traveling light to medium
Leakproof + water resistant
- 2.25 liter maximum capacity
- Flexible baffled design adapts to size of your contents
- Leak-proof, welded construction
- Dry-Through™ Technology lets water evaporate through material
- Sealing zipper
- Hypalon hang loop for hanging in the bathroom/shower
- Flat bottom design sits on counters for convenient access
Volume: 2.25 liters, max
Weight: 1oz (28g)
Maximum Dimensions: 9.5 x 6.75 x 3.5in (24 x 17 x 9cm)
Materials
- 30D Cordura® 
- Proprietary coating with Dry-Through™ Technology
- Welded construction, sealing zipper
Basic use instructions
Rinse before first use. Place your items inside the case. For better performance try to remove as much water from your items beforehand as possbile. Contents will dry through the bag. Items will dry more slowly in humid environments.
Cleaning instructions
Hand wash your FlatPak™ Toiletry Case with warm water and mild soap. Do not wash in a dishwasher or washing machine.
Dry-Through Technology: maximizing performance
Your items will dry directly through the material without allowing any leakage. The drying performance will vary based on temperature, relative humidity, and other external factors. To maximize the speed of drying, please follow the suggestions below:
- Remove as much water and suds as possible from items before inserting it into the FlatPak™ case.
- Keep as much surface area of the case exposed to open air as possible. More exposed surface area will yield faster drying times. Keep the FlatPak™ case exposed to open air while drying.

- Dry the outside of the FlatPak™ Toiletry Case after you put contents inside.

- Occasionally rinse away any residue from the inside of the FlatPak™ Toiletry Case to maximize performance of the Dry-Through Technology.
How waterproof is the Flatpak™ Zipper Toiletry Case?
The Waterproof Toiletry Case is water resistant. Waterproof materials, fully welded construction, and welded sealing zipper is highly water resistant but not fully waterproof.

What is Dry-Through Technology™?
The waterproof material is vapor permeable, allowing toothbrushes and razors to dry through the material while keeping liquid water in or out of the bag.

Can I use the Zipper Toiletry Case for things other than toiletries?
Yes, we use them to organize and protect all kinds of things.

Does this product have a warranty?
Yes, this product is warrantied for 2 years.

Warning: This product can expose you to chemicals including DMF which is known to the State of California to cause cancer. For more information go to P65Warnings.ca.gov
Leakproof and water resistant
Built from waterproof materials with welded construction to prevent leaks and keep contents dry on wet countertops.
Wet items dry through materials
Waterproof material lets water evaporate through the fabric so toothbrushes and razors dry inside the case.
Ultralight and spacious
The 2.25 liter maximum capacity fits toothbrushes and travel essentials, and expands as you fill it. Flat bottomed design sits upright on countertops for easy access, bucket style design is easy to see inside.
"Freaking fantastic"
Honestly, freaking fantastic!! It fit the same amour of stuff as my old toiletry bag, but is so much smaller! It saved me a ton of room on my most recent trip!
- Emilyn (verified customer)
"Exactly what I was looking for"
The toiletry case is perfect, I love the material, and size is good. It's simple and effective, very light and durable.
- Margaux D. (verified customer)