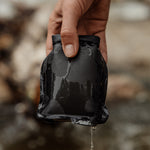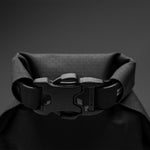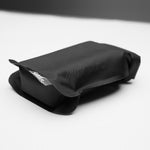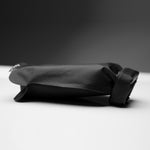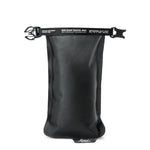 FlatPak™ Soap Bar Case
Regular Price

$28.00 USD

Sale Price

$28.00 USD

Regular Price

Unit Price

per
The FlatPak™ Soap Bar Case is the lightweight and leakproof way to travel with bar soap. Soap bars dry through the material, so they never get mushy.
Best For: Traveling with bar soap when space and weight matter
"Best gear of the year" – Popular Mechanics
"Best accessory" – Carryology Annual Carry Awards
"Packhacker pick award" – Pack Hacker
WHY WE BUILT THE FLATPAK™ SOAP BAR CASE
Bar soap is one of the best travel hacks going – a small bar lasts for weeks and there's no TSA liquid limitation. Unfortunately, it's difficult to transport. Hard plastic cases are bulky, break easily, and drip soapy water in your bag. Ziploc bags don't leak, but they turn your soap into mush.
We built the FlatPak™ Soap Bar Case to solve all these problems. The crush-proof fabric design adapts to be the size of the soap bar inside. Our patented, breathable fabric and welded seam construction is totally leakproof, but it lets your soap dry inside the case so it never gets mushy.

- 3X* lighter than plastic soap bar cases
- 6X** more compact than other soap bar cases (with 1oz bar of soap)
- Dry-Through™ Technology lets soap dry through case so it's never mushy
- Waterproof, welded construction
- Adapts to size of soapbar as it shrinks
- Hypalon® rolltop closure + YKK® buckle
- TSA approved
- U.S. Patent No. D896521 S
- U.S. Patent No. 10788263 B1

*3 times lighter compared to most traditional plastic soap bar cases
**6 times more compact when compared to most soap bar cases containing 1oz bar of soap

Weight: 0.39oz (11g)
Dimensions: 4 H x 2.4 W x 1.3 D in
(10.16 H x 6.1 W x 3.3 D cm), max
Fits standard size soap bars
Fits all types of bar soaps, including shampoo and conditioner bars
Materials
- Cordura® nylon with proprietary Matador® Dry-Through™ coating
- Hypalon rolltop closure
Basic use instructions
Rinse before first use. Put soap bar inside the bag, ensuring excess water does not get trapped inside. Roll the rolltop three times or more, bend and buckle the ends of the buckle together. Soap bar will dry through the bag. Bar soap will dry more slowly in humid environments. For best results, allow soap to dry as much as possible before stowing in bag. Keep bag exposed to open air (not in a confined space) while soap bar is drying inside Flatpak Soap Bar Case.
Cleaning instructions
Hand wash your FlatPak Soap Bar Case with warm water and mild soap. Do not wash in a dishwasher or washing machine.
Dry-Through Technology: maximizing performance
The wet soap will dry directly through the material without allowing any leakage. The drying performance will vary based on temperature, relative humidity, and other external factors. To maximize the speed of drying, please follow the suggestions below:
- Remove as much water and suds as possible from the soap bar before inserting it into the FlatPak case.
- Roll the top only 3 times to keep as much surface area of the case exposed to open air as possible. More exposed surface area will yield faster drying times.
- Keep the FlatPak case exposed to open air while drying. The drying time will be noticeably longer if you immediately put the case inside your dopp kit or luggage where there is no air circulating.
- Dry the outside of the FlatPak Soap Bar Case after you put the wet soap inside.
- Occasionally rinse away any soapy residue from the inside of the FlatPak Soap Bar Case to maximize performance of the Dry-Through Technology.
Leave No Trace principles
When bathing in the outdoors, please take care to use biodegradable soaps and rinse soapy residue 200 feet from the water source.
Is the Flatpak™ Soap Bar Case waterproof and leakproof?
Yes, both. The Soap Bar Case is fully waterproof, keeping water in or out of the case while still allowing soap bars to dry through the material.

How do soap bars dry through the material?
In short, the Soap Bar Case is vapor permeable. This allows soap bars to dry out between uses to elongate their lifespan and deter bars from getting mushy.

Which soap bars will the case fit?
All standard soap bars. If you prefer to travel with a bar that only comes in a very large size, we suggest cutting the bar in half.

How do I close the Soap Bar Case?
Simply roll 3 or more times and buckle like a drybag.

Does this product have a warranty?
Yes, this product is warrantied for 2 years.
Warning: This product can expose you to chemicals including DMF which is known to the State of California to cause cancer. For more information go to P65Warnings.ca.gov
100% leakproof design
Welded, rolltop design keeps water inside so that you can travel with soap bars and it will never leak.
Keeps soap bars solid
Proprietary coating lets soap bar dry through the fabric, preventing mushy soap and increasing bar longevity.
Fits standard size bars
All standard size bar soap fits into the case with ease. This includes traditional bar soap, shampoo bars, as well as conditioner bars.
"Great solution"
I've been using these soap bags for my soap and also dry shampoo and conditioner bars for a while now. I can put in the wet bars one day, and by the next day, or even that evening, the bar dry.
- Mia (verified customer)
"Awesome, works as described"
It really does keep the liquid water inside and allows the water vapor to escape. My gym bag has not had water in it from the soap and the soap is perfectly dry the next time I use it.
- Chris (verified customer)