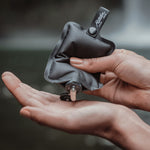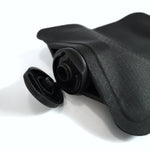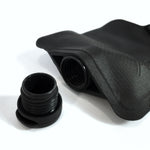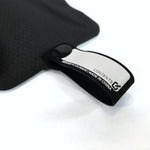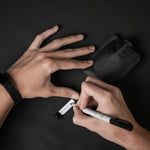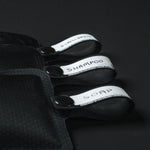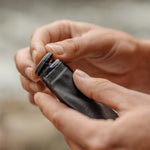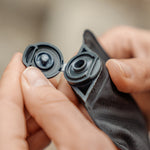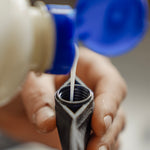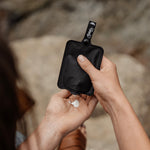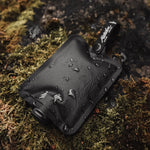 FlatPak™ Toiletry Bottles
Regular Price

$14.00 USD

Sale Price

$14.00 USD

Regular Price

Unit Price

per
The FlatPak™ Toiletry Bottle is an ultralight, soft-sided bottle designed to travel with liquids like shampoo, soap, conditioner, or lotion.
Best For: Traveling with fluids when space and weight matter
Unscrew cap for large fill opening.  Flip open cap to dispense.
"The ultimate space-saving containers" – Travel & Leisure
"Best new product" – International Travel Goods Show
WHY WE BUILT THE FLATPAK™ TOILETRY BOTTLES
Carrying less makes for better trips, and the little things add up fast. The FlatPak™ Toiletry Bottles were developed with the idea that the bottle should only be as big as the fluid inside. These welded Cordura fabric bottles are several times lighter and smaller than silicone bottles of the same volume.
- TSA approved
- 5x* lighter
- 3.5x** more compact
- Large fill opening
- Waterproof fabric
- Snap loop with write-in contents indication
- Holds liquids, gels, and pastes
- U.S. Patent No. D867161 S
- U.S. Patent No. D903,502

Not intended for food/drink. Do not use with products that contain alcohols.
*5x lighter when compared to most silicone travel bottles
**3.5x more compact when compared to most silicone travel bottles when both contain enough contents for a 3 day trip (25ml).

Volume: 3oz (90mL)
Weight: 0.41oz (11.5g)
Materials
- Waterproof 30D Cordura® ripstop nylon
- Proprietary welded construction
- Hypalon snap loop
Basic use instructions
Rinse before first use. Unscrew low-profile cap to access large fill opening. Squeeze bottle slightly from the sides to open up the bottle, then fill with any soap or paste. Screw cap on tightly to fully engage seal. Flip cap lid will align with the front of the bottle when properly tightened. Flip lid open to dispense contents. Write in contents on the snap loop with permanent marker. 
Cleaning instructions
Wash the bottle by hand only. Fill it with warm water and massage from the outside to clean the bottle. Do not wash the bottles in a dishwasher or washing machine.
Filling your FlatPak™ Bottles
Make sure the lid is screwed on completely after filling. When properly tightened, there will be no obvious gap between the bottle and the low-profile cap. The front of the flip cap should squarely align with the front of the bottle when fully tightened.
Your bottle will work with toothpaste! You can fill the bottle with toothpaste by firmly pressing the opening of the toothpaste tube against the large fill opening of your FlatPak™ Toiletry Bottle to form a seal. While firmly pressing the two ends together, squeeze the toothpaste tube so the contents are transferred into the FlatPak™ bottle.
To fill the bottle with normal fluids (shampoo, bodywash, etc.) first unscrew the low-profile cap to access the large fill opening. Then squeeze the fabric bottle from the sides to open up the cavity and and pump, squeeze, or pour the desired contents in through the large fill opening. You may need to shake the contents down to the bottom of the bottle a time or two during filling if the fluid has a high viscosity.
If the bottle still has a little fluid inside that is causing the fabric walls to stick together, simply pinch the fabric on opposing flat sides of the bottle and pull the walls apart to open up the bottle cavity for refilling.
Pumice, exfoliants, and other scrubbing soaps
When using soaps that contain pumice or other granular media, rinse the open lid before snapping it shut. This granular media suspended within the soap can interfere with the snap closure and cause the lid to be difficult to close if not rinsed away first. Forcing the lid closed with pumice or granular media in the closure can damage the lid. This abuse is not covered under warranty.
Put your toiletry bottles in a plastic zipper bag for extra peace-of-mind
Your FlatPak™ toiletry bottles should handle anything that's thrown at them. They're made from some of the industry's most durable materials and construction methods. The lid snap is also engineered to prevent/minimize accidental openings. However, it's impossible to predict what can happen when you're on the road. Those baggage handlers can be brutal, bags get run over by airport trucks, or an inspector can open your bottle and not close it back up. Anything can happen, so we recommend you put your toiletry bottles in a plastic zipper bag for that extra bit of insurance.
Leave No Trace principles
When bathing in the outdoors, please take care to use biodegradable soaps and rinse soapy residue 200 feet from the water source.
Can I use this to store food or drink products?
We do not certify this bottle to carry food or drink products. Bottles are not compatible with alcohol.

How should I store my bottles between uses?
We suggest cleaning out bottles if they are being stored for several months. Alternatively, store partially filled bottles inside a plastic zipper bag to prevent drying out over extended periods of time.

How do I fill and clean out the bottles?
The flip cap lid unscrews from the bottle. The reverse threaded design gives it a large fill opening. The inside coating of the bottle is easy to clean/rinse.

How do I tell my bottles apart?
There is a write-in section on the hypalon snap loop tail that is compatible with perminant ink.

Does this product have a warranty?
Yes, this product is warrantied for 2 years.

For a comprehensive list of questions/answers, please reference our full FAQ.
Warning: This product can expose you to chemicals including DMF which is known to the State of California to cause cancer. For more information go to P65Warnings.ca.gov
Ultralight and compact for travel
5 times lighter* and 3.5 times more compact** than traditional silicone travel bottles of the same volume. Bottles take up only as much space as their contents and are pliable enough to fit into tight spaces.
Quick drying
Water repellent Cordura fabric with a proprietary coating repels water and dries quickly.
Large fill opening
Unscrew cap for large fill opening.
"Don't be dumb"
I travel every single week for work and these are awesome. It's lightweight, it's a space saver, it doesn't leak and it's not plastic.
- Jessica (verified customer)
"Perfect for backpacking"
Took 2 of these backpacking, they are perfect. Sometimes I would put hand lotion in a ziplock baggie and that was the worst- this is so much cleaner!
- Jan (verified customer)